Meet our
Doctors
Dr. Airton Arruda and Dr. Fernanda Arruda place your comfort, concerns, and goals at the forefront. Their goal is to help and serve you, assisting you in developing a smile you'll love and confidence to match.
Dr. Airton Arruda
Dr. Fernanda Arruda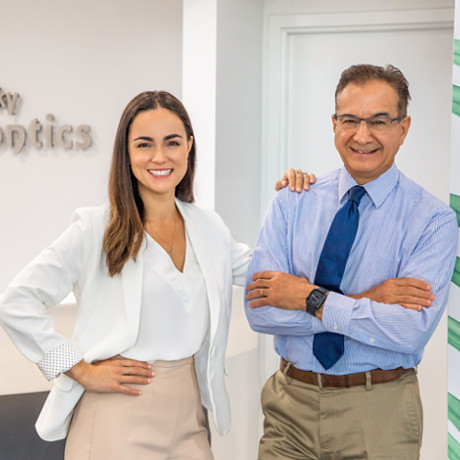 Welcome to Fremont-Sandusky Orthodontics
At Fremont-Sandusky Orthodontics, our top priority is to provide the highest quality of innovative orthodontic care in a clean, comfortable, and professional environment, and at an affordable cost. Dr. Airton Arruda and Dr. Fernanda Arruda, along with a staff that combines unsurpassed services and the latest technological advances, help patients of all ages achieve a beautiful and healthy smile.
We know that our office is only as effective and as welcoming as the people who work in it, which is why we take pride in our friendly and well-trained team members! We put your needs first to achieve efficient and comprehensive treatment in a supportive and nurturing environment.
Whether your treatment is with traditional braces, clear braces, or Invisalign® clear aligners, you can expect your results to be nothing short of amazing! We believe in providing optimal treatment results but recognize the experience of orthodontic treatment is crucial, too. That's why we customize treatment plans for each individual and each family's goals and expectations.
To experience excellence in orthodontics, please contact our Fremont or Sandusky orthodontic office to schedule your complimentary first appointment.
Invisalign®
Invisalign treatment is a comfortable, safe, and effective way to straighten your teeth without metal braces. Invisalign's aligners are clear, so no one will even notice you have them, and removable, which makes brushing and flossing a breeze!

Learn more
Our goal is your smile
"Easy to schedule 2 kids with braces and a busy schedule. Super friendly staff and doctors. Excellent help with billing and insurance questions. Thanks for making their teeth straight and pretty!"
Susie
"Bravo Dr. Arruda and staff Both of our girls went through treatment – one straight forward and one with many phases. Both got the results that are priceless – Truly exceeding our expectations. I love Dr. Arruda and his staff, very caring, friendly and knowledgeable. Miracle workers with teeth."
Amy and Todd Drusback
"Absolutely love this office!!! They are always very professional, kind, caring and thoughtful. They get you in and out quickly and answer all of your questions. They make you feel as if you are part of their family."
Alyson Busdiecker
"Very friendly staff. Great atmosphere. I will miss this place, if we need anymore help we will come back. "
Alishia Poorman